Other Bargains


Safe, Convenient and Green!
$ 28.98
(including GST)

Sign up to receive daily offers like this and never miss out again!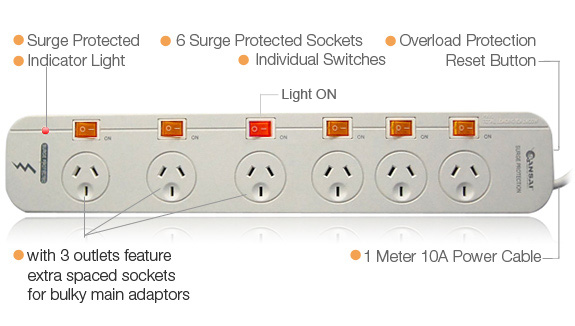 6-Way individually switched power board features a high level of protection from overload and surge. With 3 outlets featuring extra wide spacing for bulky mains adaptors, and all outlets having their own on/off switch, this Sansai surge protected power board is a must in every household. There is no need to worry about your general household electronics when they are connected to a Sandai surge protector.
TWO on offer today.
Features:
Saves hassle, appliances and your electricity bill
6 Standard Power Outlets
with SURGE Protection
INDIVIDUALLY Switched - safe, convenient and green!
Overload Protection and Reset Button
Indicator Light
with 3 Extra Spaced Sockets
1 metre Main Cord
Specifications:
Australian Standard
Power Input: 240V AC 10A(max) 50Hz
Power Handling: 2400 Watts (max)
Number of Outlet: 6
Cable Length: 1 Metre
Package Includes:
2 x

6-Way individually switched power board
Warranty:
Availability:
Dispatch or pickup in 1-2 working day
Call before pickup highly recommended