Other Bargains


- Supports piggybacking, comes with 6-month warranty, unbeatable value!
RRP $119.99
$ 49.98
(including GST)

Sign up to receive daily offers like this and never miss out again!
Ex-Demo BAUHN 5.8 GHz Double Source Wireless AV Sender and Reciever with Built-in RF Modulator
Wireless transmission of image and sound.
Watch the World Cup from 2 rooms!
Features:
Easy connection of 2 sources (eg. Satellite receiver an DVD player) for wireless transmission to another room
High performance and excellent quality thanks to integrated PLL technology
Transmitter has AV out for piggybacking
Receiver comes with RF modulator and 75Ohm coax connector, so it's suitable for TV's without AV inputs
Suitable for eg. TV, Sat-Receiver, DVB-T Receiver, Decoder, DVD Player, VCR, CD- Player
Cordless through ceiling and walls
Convenient switching between sources with any IR remote control or by switch on receiver
Cordless transmission of audio (stereo) and video signals
Directional 5.8Ghz Antennas
Connect 2 AV devices simultaneously eg. Satellite receiver and DVD –player
Also suitable for connection to PC or Notebook with TV output
Transmission of satellite receiver signals (TV and radio) to second TV or Audio appliances, set top box signals, of DVD or VCR signals and PC mp3 files to your stereo equipment
Four channels to choose from
Range up to 100m (depending on environmental conditions)
Range up to 100m and up to 30m indoors (depending on environmentalcondition)
Specifications: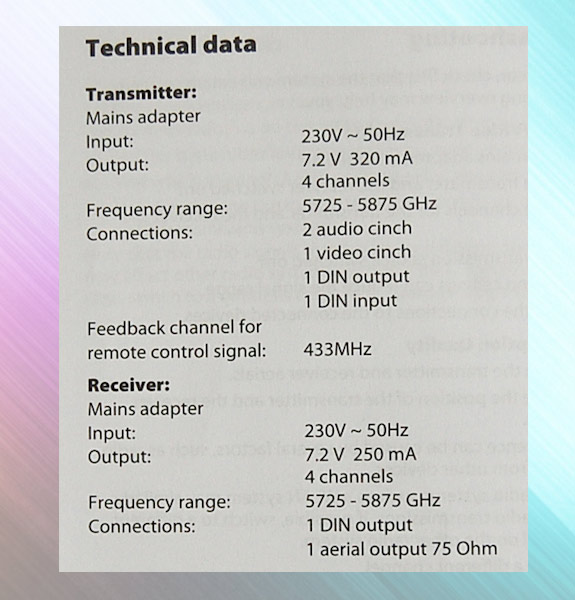 Package Includes:
1 x Ex-Demo BAUHN 5.8 GHz Wireless AV Sender and Reciever
1 x AV IN (RCA)
1 x AV IN (Mini DIN)
DC Socket
Infrared extender socket
1 x AV Out(Mini DIN)
1 x 75ohm antenna socket
DC Socket
Warranty:
Availability: