Other Bargains


3GB of data and infinite standard calls to 10 selected destinations
$ 19.50
(including GST)

Sign up to receive daily offers like this and never miss out again!
3GB data and infinite standard calls within OZ & 10 selected international destinations with the $50 Prepaid Cap. It comes with a massive 3GB of included data for use in Oz – so you can keep everyone up-to-date on social media, search the web for amazing things to do on your trip, and much more.
Here's what you get when you're in Australia:
Note: These SIM CARDS don't have any expiry date, but will be expired in 28 days after they're activated until they're recharged.
Grab one today and you can also call home any time you like, for as long as you like. You get infinite standard international calls to 10 selected destinations – that includes landlines and mobiles, plus infinite standard national calls and TXT.
Available to these 10 destinations (Offer valid till April 26, 2015)
Package Includes:
Brand new Vodafone (Full size and Micro) SIM card
$50 Prepaid Cap
Infinite National calls and TXT
Infinite International Calls to 10 countries (ends 26/4/15)
3GB Data on Vodafone 4G/3G network
More information here: http://www.vodafone.com.au/personal/campaign/50cap
Click the image below if you would like a NANO SIM CARD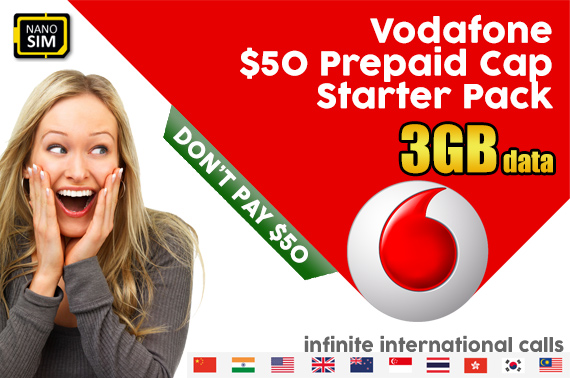 Availability:
Please allow up to 2-4 weeks for delivery
No pickup