Other Bargains


$ 27.98
(including GST)

Sign up to receive daily offers like this and never miss out again!
Instead of building a fence that blocks your view and costs you thousands of dollars, why not install your very own Dog Fence? This containment system, sometimes called an "underground fence" or "hidden fence", are more aesthetically pleasing and easier to maintain than traditional fences. Let your pet have the freedom they deserve and let yourself enjoy the peace of mind that comes with knowing your best friend is safe and secure in the yard.
How it works
If your dog approaches the boundary, the device outputs a warning tone then followed by a mild warning shock which intensifies the closer the dog gets to the boundary.
Speed Detection, the faster the dog approaches the boundary the higher the onset of intensity.
Your dog will naturally seek to avoid correction, and will be content staying within established boundaries.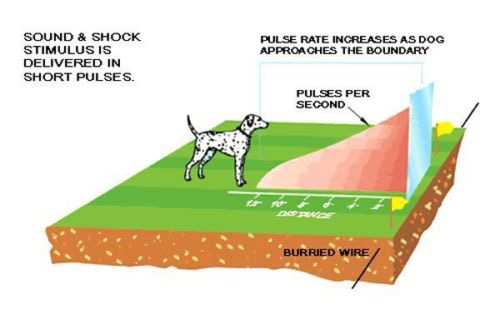 Features:
Anti-Run Through Speed Detection - The faster the dog approaches the boundary the higher the onset of intensity
Pulsed Proportional Stimulus - The closer the dog gets to the boundary, the more intense the shock will become
Variable Field Width Control - Allows you to precisely control the width of the signal
Break Indicators - Should the buried wires break the control box will display a flashing light and sound
Training Flags to give a visual indication of boundary
300m of boundary wire can cover up to 5000sqm range - Ability to create boundaries within boundaries
Rechargeable Transmitter
Great for multiple dogs (Additional collars needed if you have more than 2 dogs)
Suitable for any sized pets/dogs
Specifications:
Material: Plastic
Area Covered: Up to 5000 square meter range (over 1.2 acre)
Dimensions

Transmitter: 14.8 x 9.3 x 3.4cm
Receiver: 6.5 x 3.9 x 3.1cm

Net weight: 533g
Colour: Black
How to use:
Wall-mounted transmitter: Transmitter is the central controller to whole electronic system. Make sure the wire is set to a loop.
The receiver collar: Receiver (collar) will make a warning beep firstly and then continuous stimulation if your dog attempts to approach wire boundary.
How to install the system:
Design your containment area and calculate the amount of wire needed.
Install the wall transmitter.
Lay out the perimeter wire.
Connect the perimeter wire to the transmitter.
Verify that the transmitter is functioning and has no problem.
Set up the receiver and then, test the containment system and adjust the field width.
Install the boundary wire and training flags.
Fit collars to your dogs and train your dogs. Then you can enjoy with the trained dog
Note:
Under any circumstance, the length of the electric cable cannot less than 15m. Do not adjust the ranging control knob to the whole log when the cable length is just more than 15m or the transmitter on the wall will be burned (when adjust it to the 1/3 means the maximum). If you plan to adjust the ranging control knob to the whole log, the cable length must be more than 100m. If the cable length is less than 100m, you can make the cable become dual ring or more, which can safely operate and let the length of the cable is more than 100m
Do not parallel the loop circuit and electron, telephone, television and the buried electric cable in other yard within two meters
Do not operate within 3 meters of the electric cable, or some part of signal will be deleted
Do not operate the electric cable in the range that there cannot has the cable that prevent the system within 3 meters
Do not operate the electric cable in the place that has the steel three centimeters under the earth, or the signal will be weakened
Package Includes:
1 x Indoor wall-mounted transmitter
1 x 12V Power plug
2 x Adjustable receiver collar
1 x 6 Volt 4LR44 battery for collar
1 x 300 Meter Roll of fence Wire
2 x Extra metal contact points
20 x Training flags
1 x Test bulb
4 x Screws
1 x User`s manual
Availability:
Please allow up to 2-3 weeks for delivery
No pickup