Other Bargains


$ 19.98
(including GST)

Sign up to receive daily offers like this and never miss out again!
The Cordless Swivel Sweeper is a new floor and carpet sweeper innovation that lets you clean dirt and messes faster and easier than ordinary cordless sweepers. It combines the cleaning power of powerful, rotating cleaning brushes that pick up dirt and messes from all four sides of the sweepers' head. This device is powered by a rechargeable battery and weighs only 2 pounds, so that it is easy to handle.
Cordless Swivel Sweeper is great for picking up crumbs, dirt, pet hair, dust and more. Use it in the kitchen, family room, dining room and bathroom on tile, carpet, hardwood floors, vinyl and more. With 360 rotating head, this device can also clean around corners and under furniture. This sweeper is made of plastic and aluminium so it is durable and can be used for a long time. When done with its work, this sweeper can be stored easily, allowing you to save space.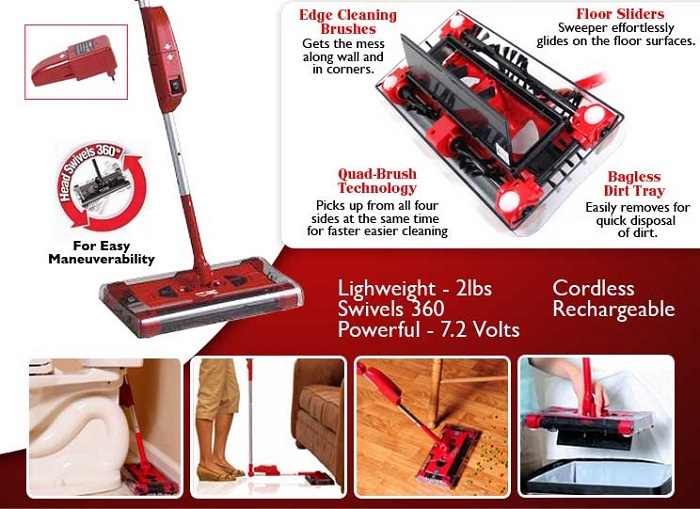 Features:
Rechargeable and cordless battery powered sweeper
With powerful, rotating brushes that pick up dirt and messes from all 4 sides
Quad brush head swivels 360 degrees allowing you to maneuver around furniture
Gets into hard to reach places and corners
Bagless
Touchless dirt tray for easy emptying of dirt and rubbish
Can be used on tiles, wood and carpet without fear of scratching
Quiet, easy to store & easy to use (with one hand operation)
Cordless - you can use it anywhere
Specifications:
Material: Aluminium Poles and Plastic Construction
Color: Red
Input: 240V AC 50Hz 6W
Output: 7.5V DC 200mA
Dimensions (L x W x H): 14.5cm x 29cm x 117cm approx.
Dirt Tray: 30cm x 15cm approx.
Weight: 0.91kg
Package Includes:
1 x Cordless Swivel Sweeper
1 x User Manual
Availability:
Please allow up to 1-3 weeks for delivery
No pickup