Other Bargains


intel i7 4.0GHz | 16GB DDR4 | 8GB GDDR5 | 256GB SSD | 2TB HDD | Win 10
$ 1349.98
(including GST)

Sign up to receive daily offers like this and never miss out again!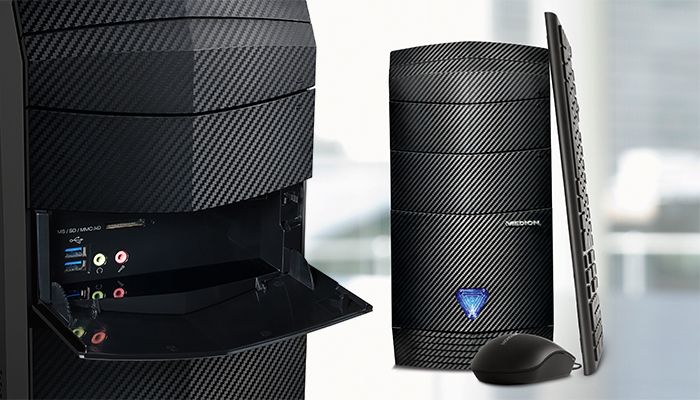 Features:
Intel® Core™ i7-6700 processor
NVIDIA® GeForce® GTX 1070 graphics (8 GB GDDR5)
16 GB DDR4 RAM
256 GB SSD (solid-state drive)
2 TB hard drive
High speed wireless IEEE 802.11ac
Bluetooth 4.0
DVD/CD burner with dual layer support
USB 3.0, HDMI, DisplayPort
6-channel HD audio
VR-Ready
Windows 10 Home installed
USB keyboard and mouse included
Refurbished with excellent condition!
Specifications:
Intel® Core™ i7-6700 processor
(3.4 GHz, up to 4.00 GHz with Intel® Turbo Boost technology, Intel® Hyper-Threading technology and 8 MB Intel® Smart Cache)
Intel Inside. Absolute control outside.
Enter into the world of gaming and dominate your opponents with skill, speed and unbeatable performance. Escape from reality into virtual worlds and experience a totally new way of gaming. Beat your opponents effortlessly with the powerful Intel processors and Windows 10 – Intel Inside – ultimate gaming outside.
NVIDIA® GeForce® GTX 1070 graphics
With 8192 MB GDDR5 graphics memory, a clock speed of 1506 MHz, digital HDMI audio/video output, DVI-D connection and 3 x DisplayPort.
The GeForce® GTX 1070 is the new high-end graphics card from NVIDIA®. It is based on the extremely powerful and energy-efficient Pascal™ architecture.
1506 Base Clock (MHz), 1683 Boost Clock (MHz)
8 Gbps Memory Speed
DirectX 12.1
Vulkan
4.5 OpenGL
PCIe 3.0
Multi Monitor: Yes
2.2 HDCP
Storage Capacity
16 GB DDR4 RAM
256 GB SSD (solid-state drive)
2 TB (2000 GB) hard drive
Dimensions (W x H x D)/Weight
approx.185 x 380 x 430 mm/ approx. 9 kg
Connections (Front)
multi-card reader
2 x USB 3.0
1 x microphone
1 x headphone
Connections (Rear)
4 x USB 3.0
2 x USB 2.0
1 x LAN (RJ-45)
1 x HDMI®
1 x DVI-D
3 x DisplayPort
1 x front line out
1 x mic in/ centre/ subwoofer line out
1 x line in/rear line out
Package Includes:
1 x Refurbished MEDION Gaming PC
1 x Corded keyboard & mouse
1 x Mains cable
Warranty:
Availability:
Please allow up to 1-3 weeks for delivery
No pickup