Other Bargains


Works with Smart TVs and Game Consoles
$ 44.98
(including GST)

Sign up to receive daily offers like this and never miss out again!
Sit down and do more
The All-in-One Media Keyboard is ideal for living rooms or home offices. It features a full-sized keyboard set and integrated multi-touch trackpad. This makes typing, panning, dragging, zooming and clicking easy. Modular hot keys for multimedia access make the Internet, your favorite music, photos and videos at your fingertips. The keyboard has a durable construction, so you do not have to worry about impact, drop or spillage. The All-in-One Keyboard Media Keyboard has everything you need for comfortable typing and navigation.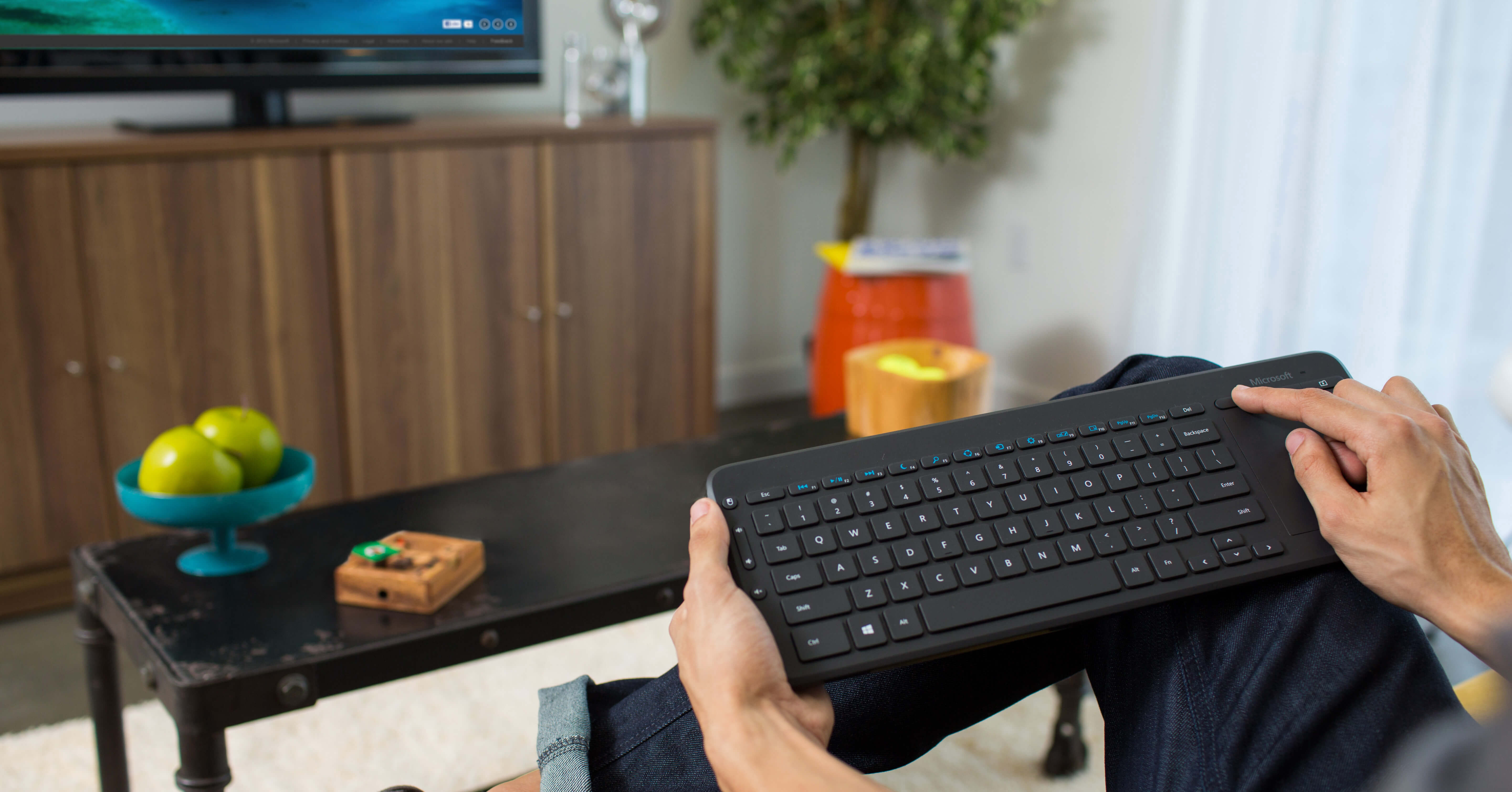 Integrated, multi-touch trackpad.
The integrated multi-touch trackpad provides easy navigation with gesture support while using Windows. Press, drag, zoom and click with great ease. You have a choice of keys to help you: search, search all your apps, settings and files from one place. You can easily share content between applications without shutting down the currently used program. Manage connections to HDMI-equipped TVs, printers, and other devices. Also easy to modify device and application settings.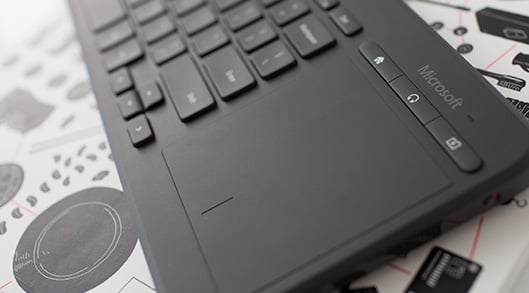 Modifiable keys for fast access to multimedia features.
Modified multimedia access keys make it easy to access your music, photos, videos or favorite web pages in a quick way. Multimedia folder with which you have access to the media library, ie unlimited access to games, movies and other content available with the use of a single key.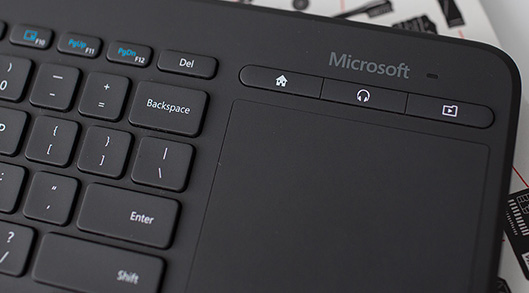 Easy access to volume control.
Convenient volume control makes it easy to use media files. From now on you do not have to search for the desired key or change settings, the only thing you have to think about is choosing the song.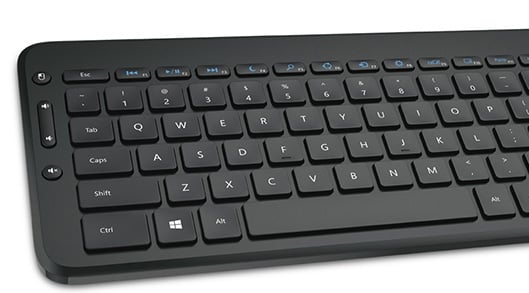 Durable, waterproof finish.
Designed to be able to continue to function even when the user accidentally drops it or sits on it. Rugged water-resistant construction and fingerprints make it easy to navigate the living room and use the keyboard on any surface. The reliability of this device will make it an indispensable element of everyday life!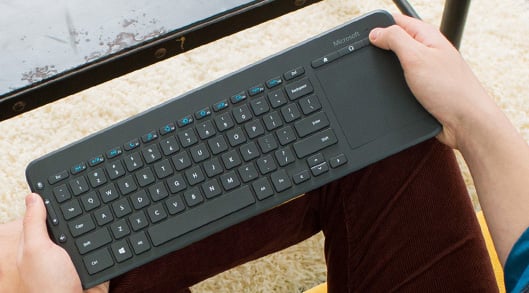 Wireless.
With a reliable 10m wireless connection, you are free to move around the room. You do not have to worry about the length of the cable, so now you can easily and without fear use the keyboard anywhere in your home! Do not limit yourself to the place. Work, play, listen, where you are comfortable!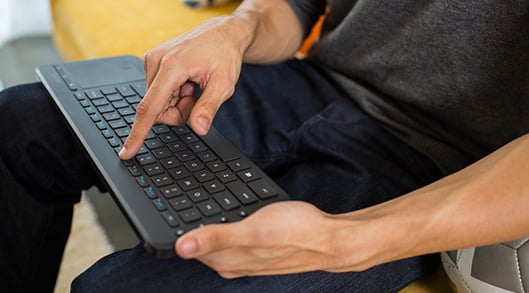 Works with TVs and game consoles.
From today, the keyboard is not just a piece of computer. From now on, it is a device that fulfills your expectations! It has basic keyboard features with USB HID compatible with smart TVs and game consoles *. Now your gear works together to provide you with a comfortable leisure experience!
* Check the Smart TV documentation or game console to find out if your device is compatible with USB HID keyboards.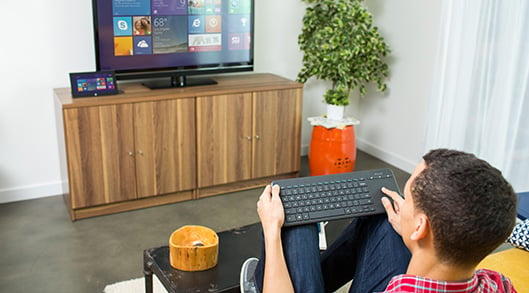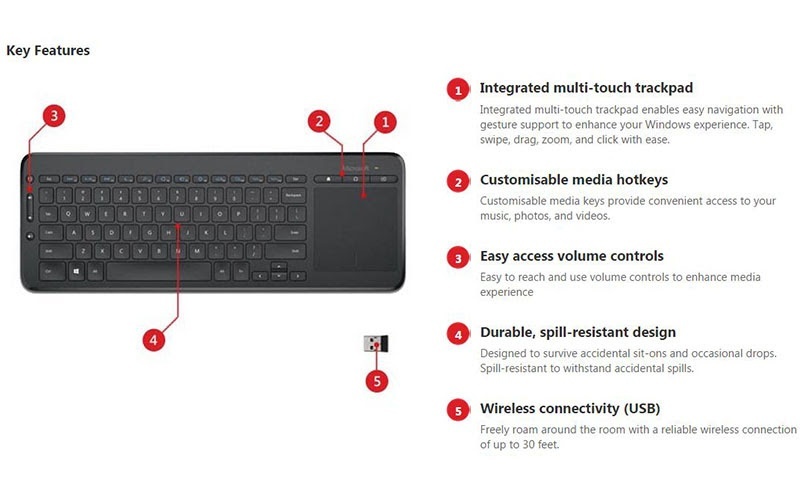 Features:
Integrated multi-touch trackpad provides effortless navigation
Customizable media hotkeys provide one-touch access to your content
Wireless connectivity (USB)
Durable, spill-resistant design
Volume controls are positioned for easy access
Basic keyboard functionality works with select USB HID compliant Smart TVs and gaming consoles
Specifications:
Type
Multimedia
Low profile
Communication
Wireless
Interface
2.4 GHz USB
Multimedia keys / functions
Yes
Colour
Black
Battery working time
Up to 9 months
Supported systems
Windows
Mac OS X
Android
Additional information
Touch panel
Splash resistance
Length
367 mm
Width
132 mm
Height
19 mm
Weight
434 g
Attached accessories
2 x AAA batteries
Nanostachter
Package Includes:
1 x Microsoft Wireless Keyboard
2 x AAA Batteries
1 x USB Dongle
Warranty:
Availability:
Please allow up to 1-3 weeks for delivery
No pickup