Other Bargains


$ 10.98
(including GST)

Sign up to receive daily offers like this and never miss out again!
150W Car Cigarette Power Adapter Inverter – 220V AC and 5V USB port Power up and recharge your electronics though this 150W car cigarette power adapter inverter

Nothing is worse than when on a long road trip running out of juice for your PSP, cameras, iPhone, or other such devices as you will have to wait hours till get to a wall outlet to recharge them. No more! Simply plug in this 150W inverter to your car cigarette power adapter and you can charge your devices directly from your car battery.

Powering your 5V devices is as completely intuitive. Have a plug for your device? Plug it into universal power socket and get cracking. Only got a male USB lead for device which you usually plug into your computer? No worries, you can use the inverters female USB receptical to get power just as fast.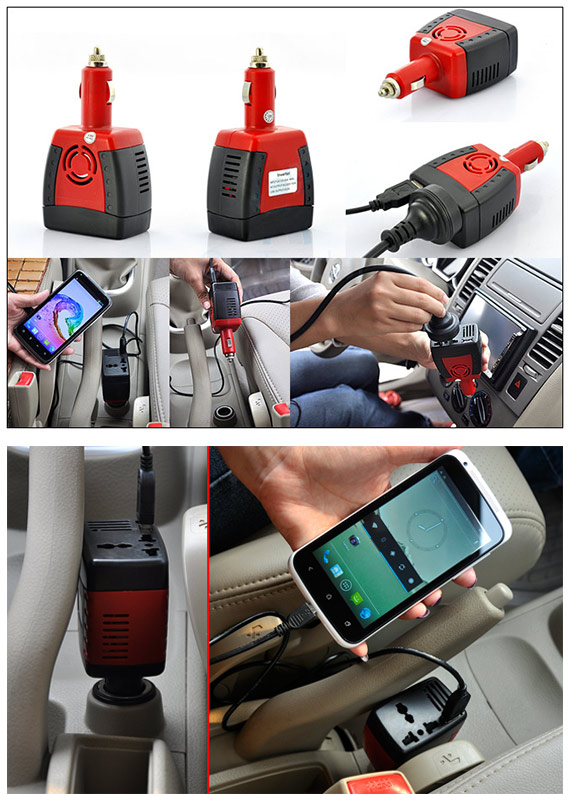 Features:
Easy to use
Low vehicle battery auto shutdown
Overload and short-circuit protection
Great for small electronics using 5V power, PSP, iphone, smartphones, cameras, portable GPS
Specifications:
Input Voltage: 12V DC 20A MAX
Output Voltage: 220V AC 50Hz
USB Output: DC 5V Power
Rated Output Power: 150W
Voltage Protection: Low-voltage 10-11V over voltage 15-16V
Over-load Protection: >150W
Short-circuet Protection: YES
Dimensions: L 120 x W 62 x H 41(mm)
Colour: Black & Red
Package Includes:
1 x 150W Car Power Inverter
Availability:
Please allow up to 1-3 weeks for delivery
No pickup