Other Bargains


Compatible with MacBook, iMac, Surface Pro, etc.
$ 7.98
(including GST)

Sign up to receive daily offers like this and never miss out again!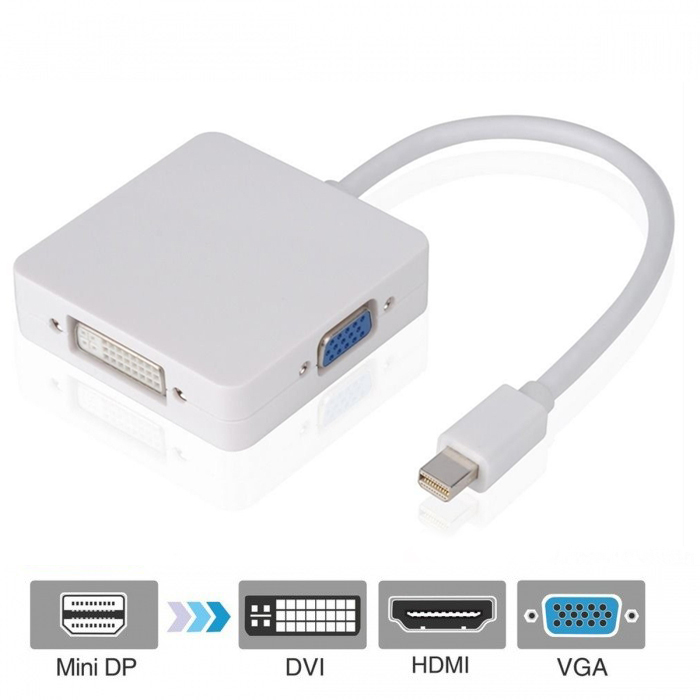 Features:
Support conversion from Thunderbolt/ Mini Display Port signal to DVI/ HDMI/ VGA signal.
Support Thunderbolt/ Mini Display Port highest video resolution 1920*1200.
Support HDMI/ DVI highest video resolution 1920*1080p.
Support HDMI/ DVI 225MHz/ 2.25Gbps per channel (6.75Gbps all channel) bandwidth.
Support HDMI/ DVI 12bit per channel (36bit all channel) deep color.
Automatic monitor plug and unplug detect for DVI/ HDMI/ VGA output.
Down Spread Spectrum Clock (SSC) support.
Powered from Mini DisplayPort source.
Connect your New Gerneration Macbooks/ Macbook Pro/ Macbook air to you display device with HDMI/ DVI/ VGA interface.
Compatibility:
- Apple MacBook, MacBook Pro, MacBook Air, iMac, Mac mini, Mac Pro
- Microsoft Surface Pro/Pro 2/Pro 3 for Windows 8 Pro
- Lenovo ThinkPad X1 Carbon
Please Note:
Can only convert signal from Mini DisplayPort to HDMI/DVI/DisplayPort. This is not a bi-directional adapter
It does not support more than one output simultaneously
No audio output from VGA and DVI
Specifications:
Color: Polish White.
Cable Length: Approx. 15cm.
External Power Supply:No external power needed
Interface: Thunderbolt/ Mini DisplayPort Male to HDMI + DVI + VGA Female.
Package Includes:
1 x Mini Display Port to DVI HDMI VGA Adapter
Availability:
Please allow up to 2-4 weeks for delivery
No pickup