Other Bargains


$ 8.98
(including GST)

Sign up to receive daily offers like this and never miss out again!
It's the best choice for home theater systems and dual computer users. No more hassles of manually pluging in different HDMI connectors to view different HDMI sources. Easy switching of multiple HDMI sources (e.g. DVD, cable/satellite receiver) using switch button on the switcher. Individual LED Display of video source channels. All inputs accommodate the connections of the high definition video sources simultaneously, compatible well for HD-DVD , PS3 , Xbox360 , Freesat HD , Virgin + , Bluray player DVD , HD Camcorder , HTPC , Laptop , Apple TV etc.
Note: The HDMI switch gets power from input HD devices to work , if your input device cannot provide enough power, you might need to keep other devices on to obtain enough power or use a 5V1A / 5V2A power adapter.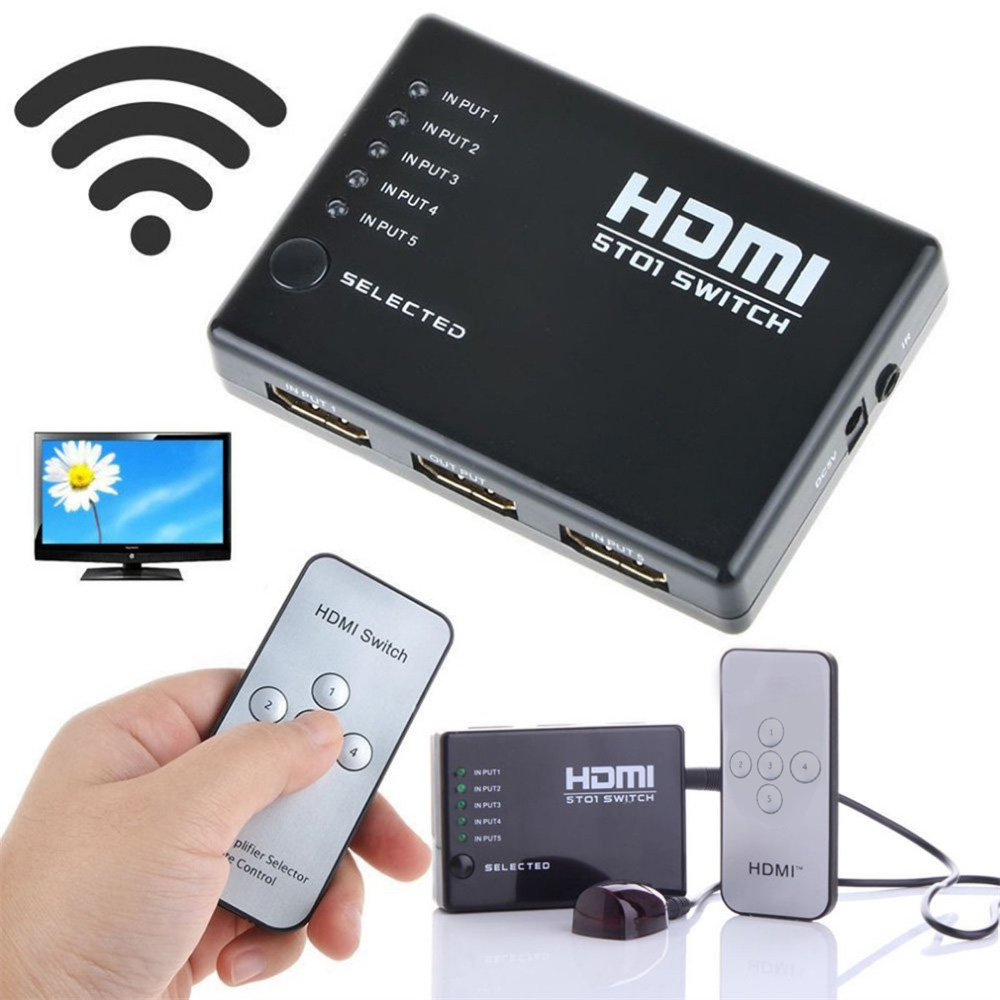 Features:
High performance HDMI amplifier switch
Connect up to 5 HDMI devices to just 1 HDMI port on your HDTV/monitor.
Automatically switch to the device that is powered on first.
Avoid frequent pluging and unpluging of HDMI cables.
Support 1080p Full HD 3D and 12-bit deep colour, retaining the crispy clear images.
High performance up to 2.5Gbps
Supports HDMI 1.3b
Support compressed audio such as DTS Digital, Dolby Digital.
Compatible well with HD-DVD, Sky-HD, STV, PS3, Xbox 360, etc. (NOT Compatible with PS4!)
No Power is required
IR remote Control, switch the input source conveniently.
Specifications:
Input DDC Signal: 5 volts p-p (TTL)
Output Video: HDMI 1.3b
Vertical Frequency Range: 50/60Hz
Video Amplifier Bandwidth: 2.5Gbps/250MHz
Resolutions: 480i, 480p, 576i, 576p, 720p, 1080i, 1080p
Consumption(Max): 5W
Item size: 8 * 5.8 * 1.8cm
Item weight: 90g
Connection and Operation
1 .Contnect the HDMI input source into the HDMI switcher.
2. Contnect the IR extender receiver.
3. Contnect the power adapter (DC 5V 1A)
4. Turn on the power
Package Includes:
1 x 5 Way HDMI Switcher
1 x IR Remote Control
1 x IR Extender Receiver
* Item works within 3M input.
Availability:
Please allow up to 1-3 weeks for delivery
No pickup