Other Bargains


$ 47.98
(including GST)

Sign up to receive daily offers like this and never miss out again!
Keep your pet happy and healthy when you can't be there with this highly functional and useful programmable Pet Feeder with Message System. This Automatic Pet Feeder ensures they are always fed at the right time so you never have to worry if they are going hungry when you aren't at home.
Comes with LCD display and keypad onboard for easy programming.
Large enough to hold up to 90 meals and extremely easy to use. Pet proof lock to prevent accidental spills or your pet getting access to it. Anti-jamming design with a built-in smart sensor to ensures overloading in the feeding tray doesn't occur. See through design makes it easy to see when a refill is needed. Storage bin is detachable for easy cleaning.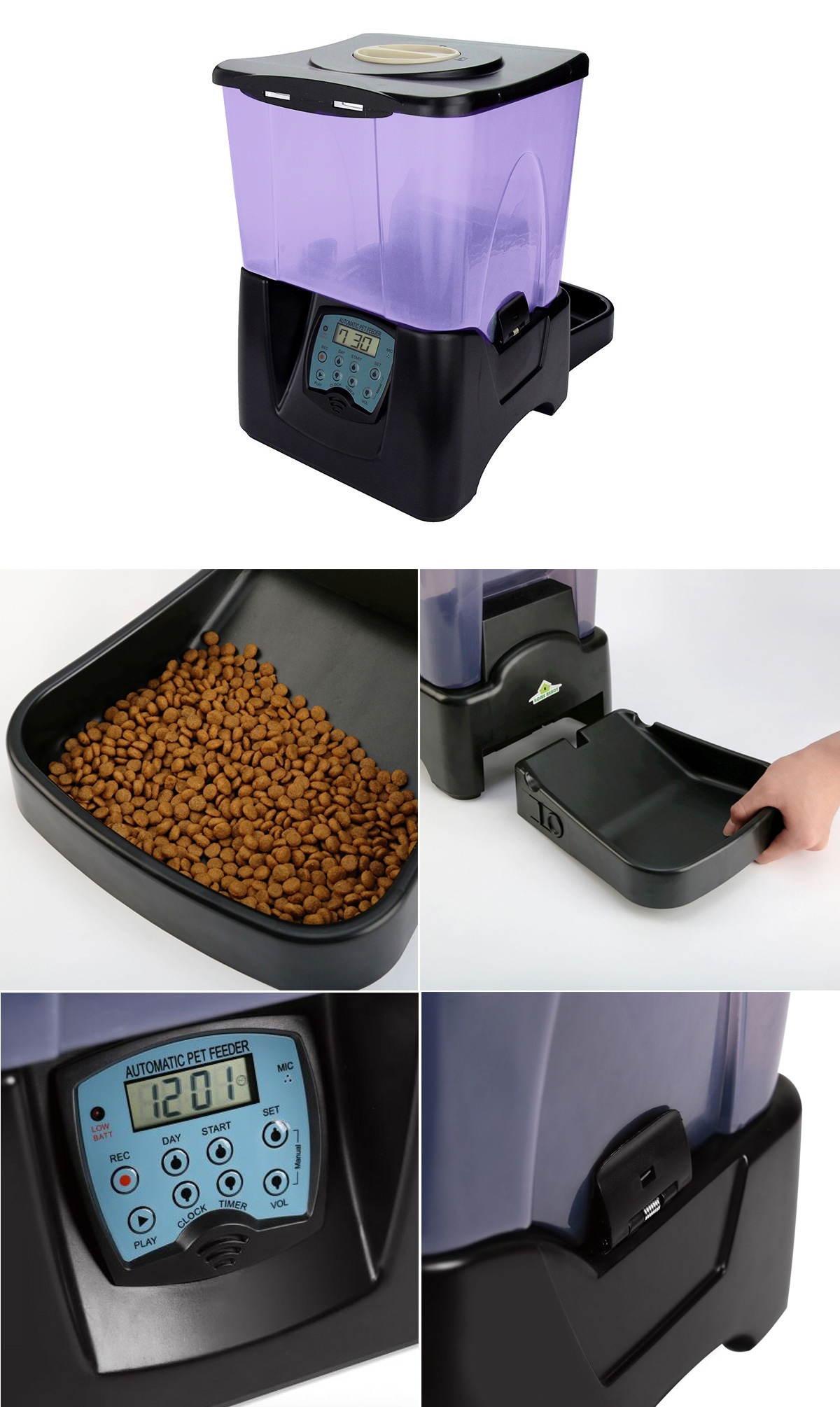 Features:
Pet-Proof lock on lid
Prevents accidental spillage
Keeps pets from overeating
Holds enough food for 90 meals
Unique anti-jamming feature
Translucent hopper shows food lever
Tamper-proof clasps on hopper
½ to 5 cup portion sizes – user programmable
Alarm sounds when scthedule expires
Record a personal message for your pet
Feed from 1 to 4 times a day
Hopper/bin and feeding-tray detaches easily from periodic cleaning
Smart sensor prevents overloading of feeding tray
Uses four D-Size Batteries
On/Off Switch located at bottom for preventing accidental shut off
Note for Use
Only Works For Dry Food
Our pet automatic feeders are not meant to replace human feeding.
Specifications:
Material: ABS Plastic
Capacity: 45 Cups / 10.65 Litres approx
Meal Capacity: 90 Meals
Dishwasher Safe: Yes
Power By: 4 x D-Size Batteries (NOT INCLUDED)
Colour: Black
Package Weight: 2.8kg
Package Dimensions (L x W x H): 43cm x 24cm x 36cm
Package Includes:
1 x Automatic Feeder
1 x User Guide
Availability:
Please allow up to 1-3 weeks for delivery
No pickup