Other Bargains


$ 11.98
(including GST)

Sign up to receive daily offers like this and never miss out again!
This compact and easy to operate system will control bad behavior and dogs who run off when taken outdoors for exercise - Many dogs simply do not respond to traditional training methods which is why thousands of owners and professional trainers have used ths dog training collars to assist them in their traning programs.
As we all know an out-of-control dog can be a danger to themselves and others. It can help you achieve a well trained and contented dog within days.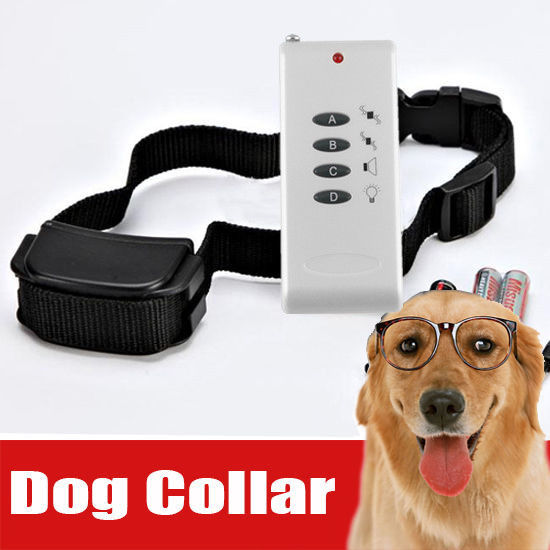 - When your dog is wearing the receiver you can select weak or strong, it will emit either a noise or a weak or strong vibration. This will soon make your dog realise that barking for no reason triggers this reaction and he should soon learn to curb the noise. The remote controller and receiver of the machine apply automatic matching technology, and the receiver will make sound when the batteries are installed in the receiver, then press any key of the remote controller and the receiver will make continuous sound, which shows it has successfully received the signal from the remote controller, and the remote controller may work normally.
- If the receiver doesn't make sound when installing batteries, please remove the batteries, and then install again 10 seconds later.
- Water resistant, rain and snow will not affect operation. (But it cannot be immersed in the water)
Features:
Safety to your dog
High quality and durable
NO electric shock (Legal in Australia)
Uses vibration instead of static stimulation levels of vibrations and whistle
Whistles and low frequency vibration of the receiver can be used for pet training
LED signal light and illumination at night
Range: 100m
CE/RoHS/R &TTE approved
Ideal for SMALL dogs
Specifications:
Transmitter

Size: 86mm x 37mm x 16mm
Weight: 40g
Dimensions: Max length: 56cm Min length: 36cm
Frequency: 433.825MHz
Red light on face
Screw off battery cover and belt clip on back
Transmitter uses: 1 x 23A 12V battery (included)

Receiver Collar

Size: 32mm x 55mm x 30mm
Weight: 75g
High quality nylon strap adjusts: 360mm- 540mm
Ajustable collar with clip attachment
Green light on side
Receiver uses: 2 x AAA 1.5v Battery (included)
Package Includes:
1 x Receiver
1 x Remote control
1 x Black nylon strap collar
2 x AAA battery
1 x 12V 23A battery
1 x User manual
1 x Screwdriver
3 x Screw
Availability:
Please allow up to 1-3 weeks for delivery
No pickup