330 station memory preset, black or silver, randomly picked
$ 16.98
(including GST)

Sign up to receive daily offers like this and never miss out again!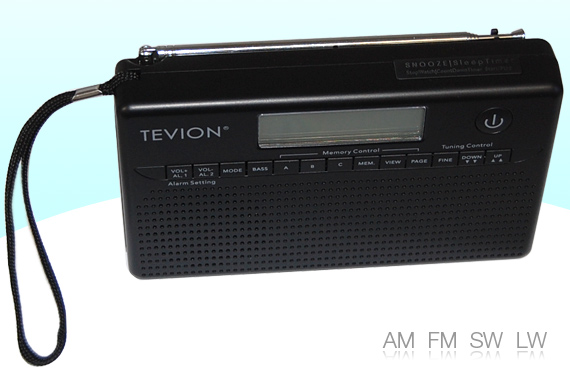 This Long Distance Radio is able to receive radio stations on all four common radio frequency bands. Search manually or have the radio search automatically for station on FM, AM, Short Wave and Long Wave frequency bands. Save your favourite station in the 330 position station memory(90xFM60x AM/150xSW/30LW). The easy to read amber-colour backlit LCD screen can display date and weekdays with a built-in calender up to the year 2099. It also is able to show you the time of 34 cities around the world.
Use the radio as an alarm clock (buzzer or radio) with 4 different wake up programs (Single, Daily, Weekdays, Weekend). Also includes 10 user selectable Special Date Alarms.
This radio operates with 4 x 1.5v AA batteries (not included), or the included AC adapter.
Product is refurbished but in immaculate as new condition.
Features:
Compact in size, easy to carry
330 Station Memory Preset
4 Available Frequency Brands: AM/FM/SW/LW
Operated by 4 x 1.5V AA Batteries(not included) or the included AC adapter
Versatile alarm clock functions: Date/Weekdays/Clock/World Time/Alarm/Stop Watch/Alert/Count Down Timer/Daylight Savings/Snooze/Time Zone...
Built-in antenna
Earphone jack (earphones included)
Fold-out/fold-in stand
Hand strap
Condition: refurbished (immaculate condition)
Specifications: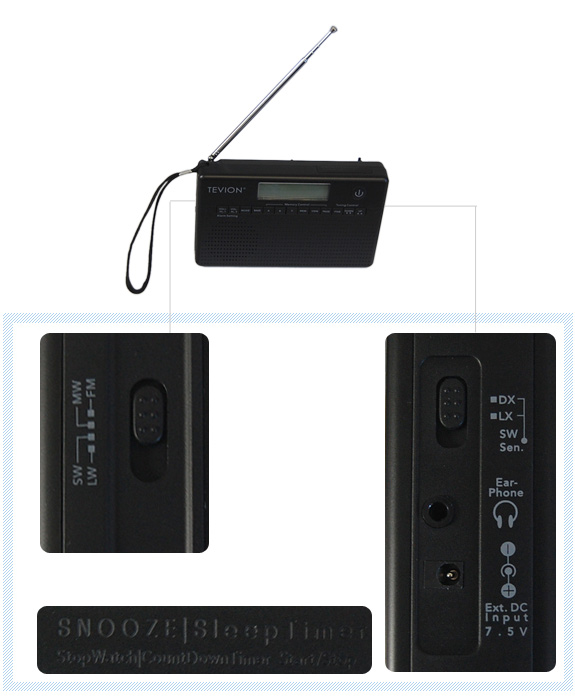 Frequency Range:
FM: 87--109.0MHz, SW: 5.85--17.9MHz, LW: 144--299kHz
AM for Europe: 522--1656kHz
AM for USA: 520--1710kHz

Earphone Connector: 3.5mm jack plug

AC adaptor model: SA400-075

Mains input voltage: AC 240V-50Hz

Output voltage: DC 7.5V-400mA

Size: 17.7 x 10.8 x 3.9 mm approx.

2 Colours : Silver or Black, randomly picked
Package Includes:
1 x Refurbished Tevion Long Distance Radio MD82157(Random Colour for dispatch)

1 x Instruction Manual

Accessories:
1 x Earphone
1 x AC Adapter
1 x Pouch

Warranty:
Availability:
Dispatch or pickup in 5-7 working days

Call before pickup ESSENTIAL