Other Bargains


RRP $99.00
$ 15.98
(including GST)

Sign up to receive daily offers like this and never miss out again!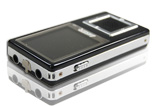 SORRY! Dell Computer Sold Out at Noon!
Brand New LASER 2GB mvp2 MP4/MP3 Multimedia Player for the rest of the day in case you don't want to go home empty handed.
LASER Mvp2 is a new generation of digital portable device, supporting Mp3/WAV music format, digital recording, FM stereo radio, AMV format playback, JPEG photograph browse and E-book text reading. It's perfect sound quality, great reliability and exquisite appearance make it a masterpiece. A built-in speaker is a cool little sought after feature not often seen in such a compact player, and it sounds great!
Features:
Built in Speaker
Built-in Microphone
Twin Headphone Outlets
Photo Album
Video Playback
FM Radio
Multi format Playback
2GB flash memory
Use it as a flash drive if you wish
Up to 10 hours playback on a single charge
Makes great gift for kids and adults alike
Unique Features:
Easy to Use: Just Drag Drop and Play
Multi-Codec Player: e.g. MP1, MP2, MP3, WMA, ASF, WAV Music formats and AMV Video Format.
Video Playback: Convert DVD, AVI and other videos into AMV format for playback. Up to 2 Hours Video Playback per 256Mb.
Photo Album: Review photos & images on the Full Colour Screen.
FM Function: Easily listen to FM stations and set your favourite stations by using Auto search or Manual Search.
Driver Free USB Disk: Manage your files directly through "My Computer" on Windows 2000 & above Operating Systems.
Record / Replay: The player supports recording through the built-in microphone and saves as WAV and ACT formats. It supports real digital A-B replay or comparison replay. The player can also record direct from the FM Radio.
7 Preset EQ Modes: Normal, Rock, Pop, Classic, Bass, Jazz and Custom
Multi-Play Mode: Normal, Repeat One, Folder, Repeat Folder, Repeat All, Random, Intro.
Power Off: You may set Sleep Timer or Off Timer mode at your own convenience.
GUI (Graphic User Interface) Menu: Vivid animation menu with corresponding characters make it easy to operate.
Specifications:
Dimension: 80*40*12mm
Weight:49.50g
LCM Window: 1.8" TFT screen
PC connection: USB 2.0
Flash Memory: 2GB
Record:
Sample rate: 8KHz
Recording format: WAV (32K bps). ACT (8K bps)
Mp3.WMA.WMV.ASF:
Max output of headphone: (L) 10mW+ (R) 10mW (32Ohm)
Mp3 bit rate: 8K bps-320K bps
WMA.WMV. ASF bit rate: 5K bps- 384K bps
Frequency response: 20Hz to 20KHz
SNR: 85dB
Distortion: <0.05%
FM radio:
Receiving frequency range: 76 MHz-90MHz/87MHz-108MHz
Station saved: 20
Max output of headphone:(L) 10mW+ (R) 10mW (32Ohm)
SNR: 45dB
Music format: MP1. Mp2. Mp3. WMA. WMV. ASF. WAV
Multi-Language show
Operating System:
Windows98/SE/ME/2K/Xp.
Mac OS 10.
Linux 2.4.2
Package Includes:
1 x Multimedia Video Player
1 x USB Cable
1 x CD Driver
1 x Earphone
1 x Manual Booklet
(actual colour or style of player might be slightly different to the photos, but functions and features remain exactly the same)
Warranty:
Availability:
In stock, immediate dispatch or pickup!