Includes USB port and SD Card slot
$ 5.98
(including GST)

Sign up to receive daily offers like this and never miss out again!
Take your favourite music with you and play it through your car stereo wherever you go!
This is a multi-function FM modulator/MP3 player that has all the sought after features built in. It's not only a FM modulator, it is also a MP3 player, which means you can simply stick in an USB flash drive or SD card that contains MP3 files and play it through the car radio. It also accepts SD card and USB as the music source. It even comes with a remote control!
Note: SD card is not included. If you want to buy SD card, please click here. ( Sandisk 8G SD card = $6.98 )
Features:
Transmitting Distance: up to 5 meters
Multi FM channels (Select any channel on the band)
Powered via car cigarette lighter
Plays audio direct from SD cards or USB flash drive
Comes with remote controller
Adjustable head to fit any space
Full frequency range (more than 200 frequencies,87.5MHz- 108MHz)
0.1MHz gap between channels
Volume - or Volume + : Press << or >> for long time
Previous or Next song : Press << or >> for once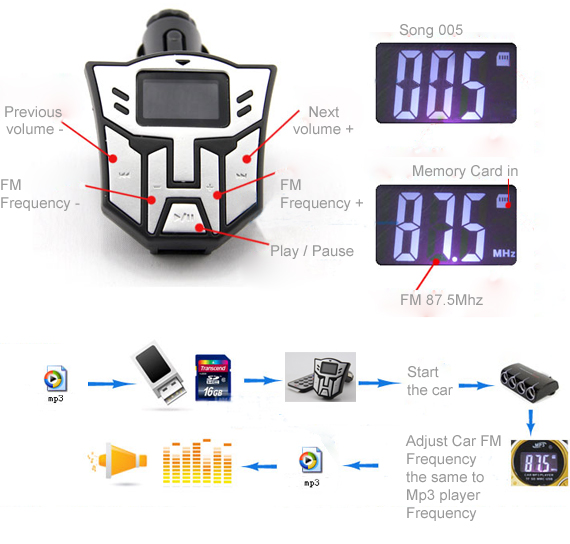 Specifications:
Power Supply: DC 12V
FM Frequency: 87.5 - 108.0MHz
Inputs: USB / SD
Dimensions: (W) 3.8cm x (D) 9.5cm x (H) 4.5cm
Weight: 80g
Package Includes:
1 x Car MP3 Player with FM Modulator
1 x Remote Control
Warranty:
Availability:
Dispatch in 3-5 working days
No pickup