Great for iPhone, iPad, Android and Other Touch Screen Devices
RRP $15.00
$ 5.98
(including GST)

Sign up to receive daily offers like this and never miss out again!
Keep your hands warm in the winter and effortlessly use your touch screen phone at the same time!
No need to remove your gloves to use your phone or send text messages with these touchscreen and texting gloves. The gloves are compatible with touchscreen phones, iPad, eReaders and other touchscreen devices.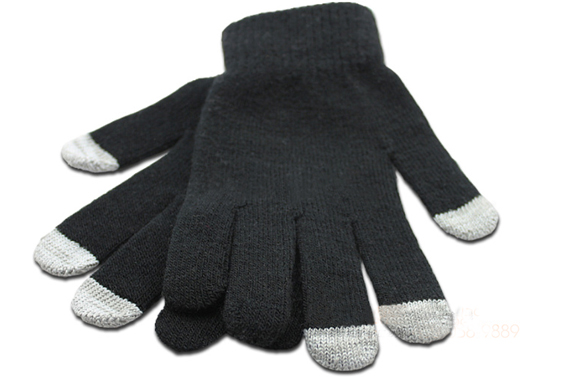 Features:
Warm, washable, strechy and three fingers functionality
Keep your hands warm while you keep in touch with your device
Interacts with your touch screen devices, including iPod Touch, iPhone, iPad and other touch sensitive digital devices
Compatibility: iPhone, iPad and other touchscreen smart-phones
Specifications:
The gloves are compatible with any and all of your touchscreen phones, cameras, multimedia devices, game systems, GPS systems, sport equipment and eReaders such as:
- iPhone
- HTC
- Droid
- Palm Pre
- Blackberry
- iPad
- Zune HD
- Samsung
- iPod Touch
- Flip HD & other cameras
- Nintendo DS
- Barnes & Noble Nook
- TomTom and other GPS devices
- Bike computers
- Garage door openers
- Tablets
… and more
Colors: Black
Care instructions: Hand wash
Materials: 70-percent wool, 20-percent polyester, 7-percent spandex, 3-percent silver nylon
Sizes: about 22cm x 12.5cm
Package Includes:
1 x Pair of Touchscreen and Texting Gloves
Availability:
Dispatch in 4-5 working days
No pickup
==== If you want Blue or Pink, please click the image below ====