$ 65.00
(including GST)

Sign up to receive daily offers like this and never miss out again!
Enjoy the spectacle of modern video formats and resolution on your Noontec Moviedock A3 II Full HD Media Player HDMI. This machine connects directly to your television via a high-capacity HDMI cable, so your video and audio quality will be unrivaled. The A3 II can play all popular modern formats, including: MKV, RMVB, AVI, H.264, so there is not much worry that the videos or movies you download from the web cannot be played on the TV.
Features:
Support card reader, USB host.
Supports All Popular HD Video.
1080P decoding, DOLBY HD, DTS.
Optical HDMI audio out interface.
HDMI/CVBS/ video out interface.
Programs collection function with favorites.
User can add their favorite fonts as subtitle and menu language.
Support break mark, makes you continue the film from shut down position.
Use our new operation system UI4.0, easy operation, attractive and useful interface.
User can set your favorite images as background wallpaper, show your personality.
Directly read and playback blue-ray files, no need complexly search the video file.
Home page with rich machine status display, let you learn the device working Product.condition conveniently.
According to user's language setting, automatic identification and display the correct subtitle words and audio track.
If the update fails, lead to device not switch on, then it can automatically turn to update mode again after the devices restarting.
With the classic and fashionable highlighting UV shape design, suit well with home appliances and decorate your parlour.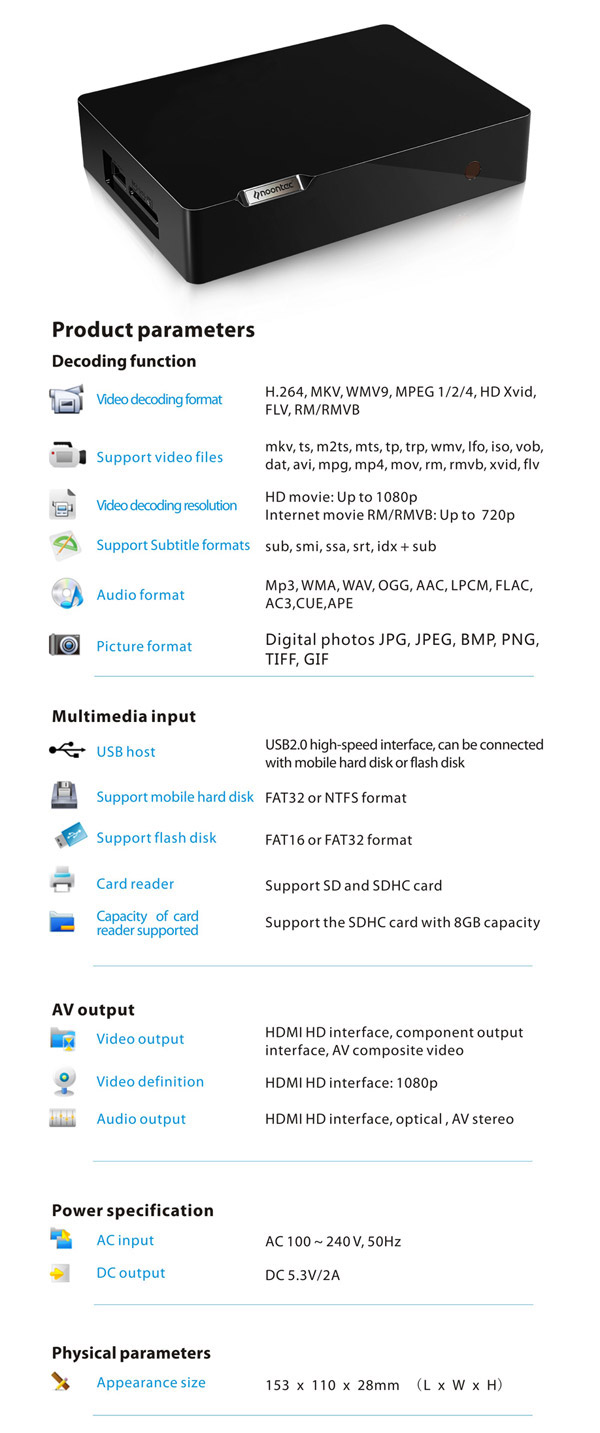 Package Includes:
1 x Noontec Moviedock A3 II Full HD Media Player
Warranty:
Availability:
Dispatch in 2-3 working days!
No pickup