for iPad/iPhone/iPod/Samsung/Nokia/HTC/GPS and Other USB Devices
RRP $15.00
$ 5.98
(including GST)

Sign up to receive daily offers like this and never miss out again!
This 3.1A dual USB car charger can simultaneously charge your iPad and iPhone!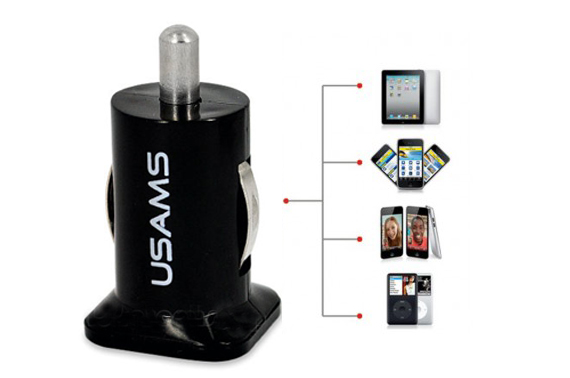 The 1A (amp) port is suitable for iPhones (4S/4/3GS/3G), Samsung, Nokia, HTC and other mobile phones, small digital divices such as MP3's etc., while the 2.1A (amp) port meets iPad, GPS and other high-power USB equipment's high-current demand. The two USB ports can be used simultaneously!
Features:
3.1A Dual USB Car Charger Adapter for iPhone/iPod/iPad (all versions) and other digital devices
Two USB ports
Compact and stylish design
Works with Apple iPad, iPhone, iPod, Samsung, Nokia, HTC, GPS, MP3/4, digital cameras, and lots more...
Specifications:
Input Voltage: 12V or 24V DC
Output Voltage & Current: 5V max. 3.1A
USB Port: 2 USB Ports
Dimension: 25mm x 25mm x 46mm (Width x Height x Depth) 1" x 1" x 1.8" (inches)
Package Includes:
1 x 3.1A Dual USB Car Charger
Warranty:
Availability:
Dispatch in 1-2 working days
No pickup