$ 189.00
(including GST)

Sign up to receive daily offers like this and never miss out again!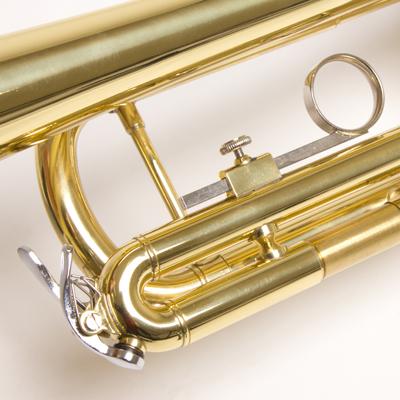 Brand New Gold Lacquered Bb Trumpet
This is a brand new semi-professional gold lacquered Bb Trumpet. It has a great rotund sound. This trumpet is very reliable and it will last for years for your enjoyment.
Suitable for beginners, students, intermediate and semi-professional players; it comes complete with a hard carry case with plush lined padded interior, 7C mouthpiece and gloves.
Each Trumpet is engraved with its own unique serial number for your security and safety.
Features:
Gold lacquered brass body
Key: Bb
Nickel Silver pistons
First slide thumbhook
Adjustable third slide finger ring
Rose Brass leadpipe for a smooth tone
Medium Bore
Standard 4 11/16" Brass Bell
Teacher Approved and recommended
Includes 7C silver plated mouthpiece
Deluxe zippered canvas case
Specifications:
Number of keys: 3
Colour: Gold
Dimensions: (L) 43cm
Bell Diameter: 12.5cm
Bore Size: 1.16cm
Carry Case Dimensions: (H) 23cm x (W) 15cm x (D) 53cm
Package Includes:
1 x Trumpet with mouthpiece
1 x Pair of gloves
1 x Carry case with carry handles
Warranty:
Availability:
Dispatch in 3-5 working days
No pickup