Other Bargains


RRP $19.99
$ 0.00
(including GST)

Sign up to receive daily offers like this and never miss out again!
Another day, another quality FREE Ozstock! Make sure you don't miss it!
Throwing away old dull and blunt knives and scissors?
Stop! Sharpen and revive them!
This innovative All Purpose Super Afilador Handheld Blade Sharpener sharpens everything with ease! And it's the only sharpener that sharpens serrated knives! It works effectively on almost everything with blade, such as knives, scissors, cutlery, shears, axes, serrated knives, tools, machinery etc.
Try it, it really works!
As Seen On TV Product!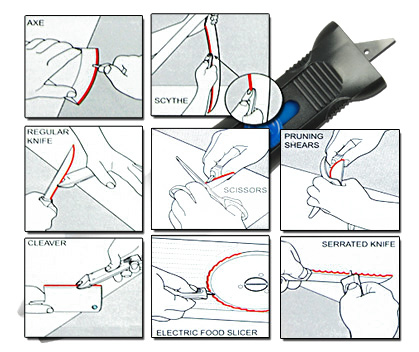 Features:
Now you can easily sharpen things you could never before!
Ergonomic stream line design for optimum handling and function
Adjustable sharpenning inserts for superior performance
Top quality precision grinded high-end tungsten carbide inserts
The delta can sharpen virtually everthing.
Two angles facilitate sharpening:
120 degree for scissors and shears, 90 degree for skis and snowboards
The tip reaches built in blades in narrow places-like electric hedge clippers.
Adjustable V-slots
V-slots works best for straight-edge blades like regular knives because it sharpen both sides equally and simultaneously
Adjust to use the entire edge of both slots. This will extend the time and handle to sharpen a thick or thin blade
The ONLY sharpener that sharpens serrated knives
Instruction included
Specifications:
Delta-insert can be used for
Scissors, Shears
Pruning shears, poultry scissors
Electric food slicer, slicer, peeler, food processor knife, lawn mower blade
Skis & Snowboards
Serrated knives
Axe
V-Slots can be used for
Regular knives w/straight edge blade
Cleaver, scythe, sickle and similar items
Size: 16cm long
Package Includes:
1 x Super Afilador Sharpener
Availability: