Other Bargains


RRP $399.00
$ 39.80
(including GST)

Sign up to receive daily offers like this and never miss out again!
The MONSTER is back, bigger, faster and bester!

The VERY LATEST and the GREATEST and the FASTEST HDMI cable on earth! And still at a fraction of the normal retail price, literally.
If you want the BEST POSSIBLE High Definition picture and the BEST POSSIBLE lossless High Resolution sound for your home theatre system (who doesn't!), you don't want to miss Today's Stock! Even the pickiest audiophile and videophile's AV standards are easily surpassed! Because it's simply THE most advanced Ultimate High Speed HDMI cable you can ever dream to get on the market today!
The only thing better here is its absolutely unbelievable Ozstock price!
HDMI is the MOST advanced digital AV cable invented by man to date, and Monster is the BEST in the business!
Monster! Best cables in the world!
M1000HD, the Ultimate M Series Monster HDMI Cable!
Ozstock, the only place to obtain the cheapest prices on Big Brands, is proud to bring you this EXCLUSIVE MONSTER offer today! Valued at $399 RRP, this brand new and genuine 2.43M 15.8Gbps Monster M1000HD M Series HDMI Cable is less than $40 (plus p & h) here at Ozstock today! That is a MONSTEROUS 90% off! Imagine that!
Now, imagine no more, just get the damn MONSTER! But hurry, the beast is scarce, so catch it before it becomes extinct!
Please note, colour or shape of product may be subject to change without notification.
Compare prices here http://www.shopbot.com.au/default.asp?kw=monster+M1000HD+hdmi+cable&position=search
Features:
Large gauge silver-coated conductors for superior signal transfer and ultimate high-definition video.
Ultra high-density quad-layer shielding for ultimate rejection of RF and EM interference.
Advanced nitrogen (N2) gas-injected dielectric ensures maximum signal strength, even over longer runs.
24k gold contacts for maximum signal transfer and corrosion resistance.
Specifications: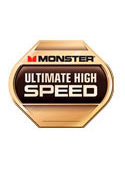 The Most Advanced Connection for HDMI Is the Monster M1000 HDTV HDMI Cable
When you want to see and hear every detail, every nuance, without compromise, choose the best: HDMI. This digital audio/video interface does it all, delivering uncompressed 1080p/120 Hz high definition video with 12-bit Deep Color, eight channels of 192/24 digital audio for ultimate 7.1 surround sound, and an integrated control channel--all in one cable. HDMI is the only way to fully utilize today's standard in High Definition DVD: Blu-ray Disc Plus, it eliminates digital-to-analog conversion between your video sources and display for the most accurate high definition picture.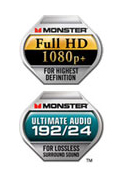 Meeting the Demands of a Higher Definition World
HDMI places incredible performance demands on interconnect cables, requiring a truly high-bandwidth connection. One that can deliver enormous amounts of digital data without bit error and signal degradation. Monster Ultimate High Speed HDMI meets and exceeds that challenge, boasting a cable bandwidth greater than 15.8 Gbps. With M1000HD, you'll optimize the picture and sound quality of today's highest performance 1080p sources and displays--and be future ready for tomorrow's faster data rates and even higher definition components. That means your favorite high definition DVDs, like Blu-ray Disc and HD programming will truly come alive with unparalleled clarity and realism.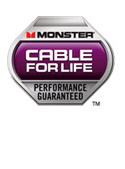 M Series Exclusive Technologies for Ultimate Picture and Sound
The M Series M1000HD is engineered to the highest standard with exclusive technology and construction for ultra-accurate, high-bandwidth signal transfer. Heavy-gauge, multi-stranded copper conductors maximize digital signal transfer for precision 1080p video reproduction with deep, extended color. An advanced nitrogen gas-injected dielectric corrects impedance variances to deliver the digital signal in its purest form. Plus, high-density quad-layer shielding rejects interference for improved accuracy and maximum home theater excitement. For all the performance your high definition components can deliver today and tomorrow, step up to the M Series M1000HD.
Monster designs its advanced cables for HDMI to meet and exceed the highest of HDMI standards. If the components you purchase in the future ever surpass the performance of the M1000HD you buy today, Monster will upgrade the cable absolutely free.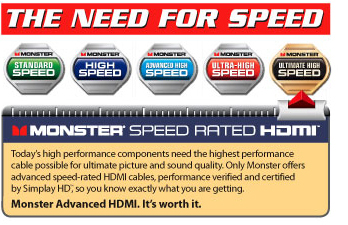 Package Includes:
1 x Monster HDTV HDMI Cable M1000HD 2.43Metres 15.8Gbps
(colour or shape of product may be subject to change without notification)
Warranty:
Limited Lifetime Warranty!
Availability:
Dispatch in 2-5 working days!
Limited quantity available for immediate pickup! Please call first if you are picking up large quantity.