Ideal for bedrooms,small houses or apartments,mobile homes,cars,boats,caravans,camping etc
RRP $99.99
$48.98
(including GST)
+ shipping
click here
Click here
to subscribe our newsletters about daily offers like this and never miss again!

Like on Facebook: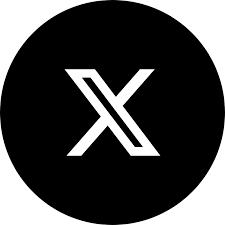 Twitt on Twitter:
Tweet

Last Purchase by:
rajnesh
Description
On special today is a portable thermoelectric mini fridge (cooler and warmer) that is ideal for any occasions and any homes such as bedrooms, small houses or apartments, mobile homes, cars, boats, caravans, office, camping, travels, etc. And it's perfect for cooling and keeping cold soft drinks, beers, wines, cheese, salad and other food. It can go down to 5 degree C in room temperature. Warming (up to 65 degree C) is just as efficient and convenient and is as easy as flipping a switch.
Makes great Father's Day gift. But hurry, stock is limited, and will sell fast at price this low!

Features:
Thermoelectric cooler/warmer
Cools to +5 degree at the ambient temperature 20 degree (±3 degree)
Warms to +65 degree by set-point thermal switch (±5 degree)
Warm & cool switches
Warm & cool LED indicators.
Low power consumption.
AC & DC operated (both cables included)
Long power cables: 3m DC and 2m AC approx.
Non-wearing thermoelectric cooler/warmer systems (Peltier System)
Brush-less motor for long life operation
Conveniently plugs into any 12v cigarette lighter on vehicles or boats, or plugs into mains power point for indoor use
Solid CFC-free polyurethane foam
Unusually large capacity: 12 Litres
Fits standard wine bottles (with partition shelf removed)
Folding handle for easy carrying
Ideal for bedrooms, small homes or apartments, mobile homes, cars, boats, caravans, office, camping, etc.
Specifications: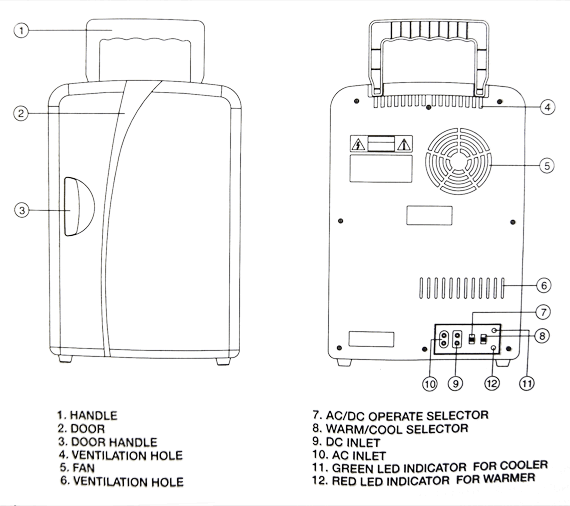 Brand: SUNCA
Model: MR-118A
Voltage:
AC 220-240V ~ 50/60Hz
DC 12V
Power consumption:
AC max power: Cool mode 60-70W
Hot mode: 57-65W
DC max power: 60 watts max.
Capacity: 12 Litres
Cooling: +5 degree at the ambinet temperature 20 degree(approx).(±3 degree)
Heating:
+65 degree(set-point thermal switch) .(±5 degree)
Non-wearing thermoelectric (peltier system).
Brush-less motor for long life operation.
Insulation:
Solid CFC-free polyurethane foam.
Cool & warm LED indicators
Dimension:
297mm (L) x 257mm(W) x 380mm(H)
Case: ABS
Accessories provided:
AC power cord
DC cord cigarette plug with fuse (8A Euro Type car fuse)
Cable length: 3m DC and 2m AC approx.
Colour: silver

Important: Keep the fridge in dry place at all times
Package Includes:
1 x Dual Power Cooler & Warmer
1 x Manual
1 x Car Lighter Cable
1 x Power Cord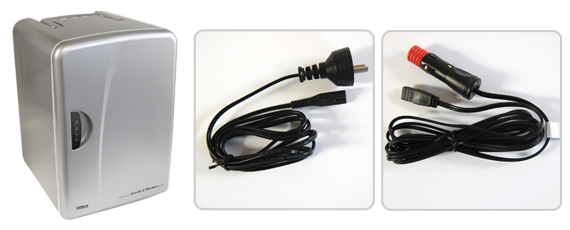 Warranty:
Availability:
Dispatch or pickup in 0-1 working day
Call before pickup essential
Scroll